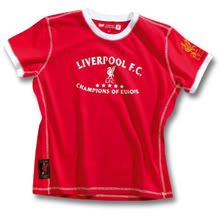 Crouching In The Goal Posts!

Seakan tak percaye Peter Crouch scored 2 goals...ahahaha...aku tak berade di tpt kejadian, mahupon tgk bola since aku ade ngn Su. What a miss! Tp ape2 pon Liverpool up to 3rd place..sbb Arsenal kalah malam td...hihi...mane Henry nieh...team die kalah la plak! Hmm...nieh la dikatekan rezki kan..kalo dpt menang, sronok jek...cube tak menang...moyok jek...Aiseh...tringin tul aku nak balik cepat tgk repeat games...leh aku tgk game nieh dgn jayenye!

Aku takleh update byk sal bola agik...becuz there's so much to talk about...bile idup asek ngn bola jek nieh...smpai tepu lak ape nak ckp...


N then tak sempat nak taip sal bola arinieh...dh kate kat opis si Su...lenkali jek la ek!

Apepon...tgh hepi bangat...yeayyy...sronot jek rase, lagik2 bile jupe gambo lady tee idaman aku dlm gambo nieh! Punyelah comey ladies wear LFC....hukhuk...brangan la smpai mati nak pakai mende nieh...uhuuuuuuuuuu....:(


'Til the rite time....