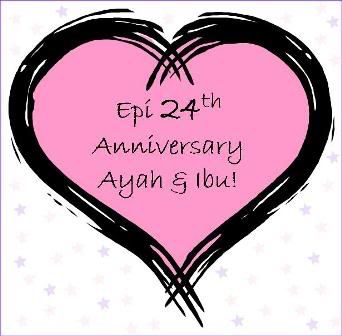 SOLDIER OF FORTUNE-DEEP PURPLE

I have often told you stories
About the way
I lived the life of a drifter
Waiting for the day
When I'd take your hand
And sing you songs
Then maybe you would say
Come lay with me love me
And I would surely stay

But I feel I'm growing older
And the songs that I have sung
Echo in the distance
Like the sound
Of a windmill goin' 'round
I guess I'll always be
A soldier of fortune

Many times I've been a traveller
I looked for something new
In days of old
When nights were cold
I wandered without you
But those days I thougt my eyes
Had seen you standing near
Though blindness is confusing
It shows that you're not here

Now I feel I'm growing older
And the songs that I have sung
Echo in the distance
Like the sound
Of a windmill goin' 'round
I guess I'll always be
A soldier of fortune
Yes, I can hear the sound
Of a windmill goin' 'round
I guess I'll always be
A soldier of fortune

1st and foremost....
HAPPY 24TH ANNIVERSARY TO MY PARENTS...!!!
Cewwaaahh...baru berhajat nak letak simbol 'Z' kat greetings dowang nieh...ingat nak letak name (cam best plak dua2 name same urup...Zamrinor n Zakiah...ecewaaahh!!!)....tp memandang macam poyo la nak letak name parents aku kat sini...so, aku tak letak aaa. Biarlah...yg penting ape dlm ati,kan. It's the thought dat counts:)
I'm not talking about minuses la...yg penting pade tarikh 23rd January 1982, bertempat die Jalan Permai, Taman Dato' Shahbandar, Ampangan, Seremban..merpati dua sejoli nieh telah dinikahkan. Ari Sabtu nikah, Ahad kenduri dua2 belah. Siang majlis umah pompuan...malam majlis umah laki. Siang songket ijau, malam songket biru. Huhuhu. Both of them were 23 nak masuk 24 yrs old (aiiyaaakkkk....my age now!)
Menurut ibu aku, kenduri kawen itu sangatlah memenatkan. Huhuhu, kadang2 bile tgk gambo kan...barulah aku paham apasal penat. Die siap bebel lagik pasal baju songket. Hahahaha. Tp takpelah...panas2 pon dh 4 org anak dh...kalo ikutkan patut ade 6 org tuh...hihihi...
9 months later, 13th October 1982 dptlah Puteri Bulat Bulan nieh. Baby lahir one week before dijadualkan kuar. So, kalo org kate lahir 8 months+++, mmgla...sbb kuar awal. Ibu cite, ari kawen tuh last day dtg bulan, tuh pasal baby pon dpt on time. Hihi. Bab nieh geli ati laaa...becuz mase mule2 blaja Bab 2 form 3 kan, brani2kan diri tanye ibu. Takut giler nak tanye becuz ibu garang, kan! Tp...die okaylah...In fact I got more informations dr org len pe...hihi...
Okeh aaa...kire then kuar agik 3 org. Jantan kesumenye..hehe. Skang dh ade 4, dua tinggi...dua rendah. 3 mate sepet, sowang jek mate besar. Hehe. 3 tembam, sowang kurus. 2 muke ibu, 2 muke ayah. So..what else kowang nk tau? Apasal sibuk2....suke ati laa..:P
So, basically...nak cerite nieh macam2 la. 24 yrs of marriage, bkn senang tul tak. I'm not going to talk about minuses...tuh tak payah sebok nak tau...but what I'm trying to say is....marriage is sumthing u share together, kan?
At this 24th yrs kan...aku teringat la ape yg ibu ckp. She said...one day, when I got to know a person...bile sayang, then I'll know the true meaning of luv. Indeed, she's rite. I got my lesson well, rite? Hehe. But...I'm not going to tell u about my luv life laaa....dats my treasure to keep:)
But...satu jek ibu cakap. One thing about marriage or a relationship...sume tuh hal kite. Jgn kecoh2 cerite kat org...jgn kuat sangat mengadu...n jg lari dr masalah. I'm trying to keep what she said...trying to implement what she did...tak tau la berjaye ke tak...setakat nieh, almost berjaye la. Hehe. But..itu yg me respect sangat about my mum la. No matter how hard the situation, die takkan sronok nak cerite la. In fact, taklah sume cakap org. Me as a daughter pon tak tau, kan. One thing I respect about dis marriage, ibu knows how to keep things confidential. At least aku dpt ibu yg taklah smpai every detail of the marriage tuh cerite kat org...Kalopon ade, terpulang pade predictions and assumptions, kan? At the end of the day...sume tuh die harungi jugak...lantak org nak kate ape...
N then, ibu slalu ajar, in marriage, in a relationship....jgn pandang yg tak baik jek. At least, value the gud things as well. Pandai2 la nak naikkan partner kite, defend partner kite. Ape jd pon...itu rezki kite, jodoh kite. N my dad..hmm...my ayah is sumone yg aku agak jarang cerite la. But, he luvs sumone in his own way. Macam dgn aku nieh, our relationship kan...mmg slalu je argue. Lagik2 pasal bola n Siti Nurhaliza...mmg slalu argue!
But when it comes to appreaciate days and things, dad is the man la! Yg nieh takde sape leh challenge. For example, our childhood photos...ayah yg simpan dlm frame, dlm album...sowang mesti ade satu. Every buzdayz..we get sms or hand-made cards, bile exam ayah post kat hostel hand-made cards utk aku (except skang ayah dh tak nampak sebelah, dah takde). He is the one who remembers even a single date with my mum (yg nieh aku kot yg ikut...hihi). Even today also....ayah is the 1st person to wish my mum...hihi...kdg2 geli ati tgk diorg la. They alwiz say dat luv is a strange thing laa...sbb diorg nye ayat
"siang gaduh tak ingat...malam2 peluk jugak!"
. Huuuuu...aku akan jd blushing! Errghh...maluuuu..
So, with 4 children now....dh makin besar sumenye...just wish dat dua2 nye sihat...at least tgklah sume anak2 abes blaja. Yg aku ingat diorg kawen dulu Chinese New Year, prosperity nye festival kan. So, hopefully the marriage pon prosper gak. Ape agik ek? Hmm...nak wish cepat dpt cucu tak boleh (nnt aku plak yg kena...hehehe). Takpelah....wish sume anak2 nye berjaye. N paling penting! Semoga ibu n ayah di bawah peliharaan Allah...Amin!
No other stories for today. Takmo cerite byk. Hehe. Okay aaa....'til then...:D
p/s: Arinieh lagu fav my parents...hihi...