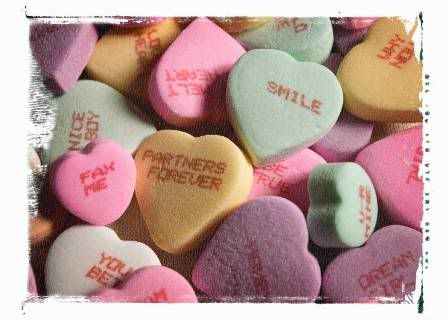 CANDY-MANDY MOORE
I'm so addicted to the loving that you're feeding to me (ohhh)
Can't do without it, this feeling's got me weak in the knees (ohh baby)
Body's in withdrawal every time you take it away (ohhh)
Can't you hear me callin'? Begging you to come out and play? (awww yeah)
Chorus:
So baby come to me
Baby, show me wh you are (yeah yeah yeah)
Sweet to meLike sugar to my heart (oooh baby)
I'm craving (I'm cravin) for you, I'm missing you likeCandy (missin you like candy)
Sweet sweet loving got me going to the extreme,
Won't go without it this vibe has gotta hold on me
Satisfying baby let me show what I'm made of
No doubt about it, got me feeling crazy can't get enough.(baby baby baby baby wont you)
Chorus x2Spoken:
You know who you are,Your love is as sweet as candy
I'll be forever yoursLove always, mandy
Boy I'm cravin'
Missing you like candy

Ape nak cite sal life aku? Ntah! Sebelum2 nieh dh byk cite...so yg nieh takmo panjang cite la. Cite pendek2 jek...huhu..

Ape nak cite? Ooo..pasal Golden Globe smalam. Aku slalu tak amek pot sangat mende2 gini, tp ade satu part yg best: Anthony Hopkins...

Aku bace sokkaba, die menang special award. Cecille and Demille Award, kalo tak silap aku la. Kat aku...die mmg patut dpt award pon. Aku suke tgk die blakon. Paling aku minat die blakon cite fav aku: Legends of the Fall. Best2...die blakon org yg kena stroke tuh mmg best...cam real smpai aku ingat die betul2 kena strok..hihi...

Pastuh...aku dpt tau, Mandy Moore ade jd presenter dlm majlis tuh. Mandy Moore..aku slalu tak amik tau sal die, ape die wat. Yg aku tau dulu aku tak minat die. Sbb mulut die kalo nyanyi..juih2. Pastu cam nak tiru Britney Spears jek. Huhu...

Tp aku sangat suke lagu Candy. So, bile dgr lagu Candy nieh aku leh jd ngade2 menyanyi2...Mase tuh aku mude remaje agik, baru form 5, kan! Hihi. Ini salah satu lagu pop yg aku layan mase dulu2. Bukan senang gak nieh...sekolah dulu agik giler kat rock jek.

Pastu, nieh gambo Candy Hearts...Lawo tak? Menurut kepercayaan omputih, candy hearts nieh bagi kat boipren galpren. Lagik2 time Valentine's dowang tuh. As for me...aku amik gambo nieh sbb canteq jek...yg len dh takde kena mengena ngan life aku...hihi..

Okaylah...kite layan lagu Candy!!!:D

p/s: Nak balik tgk Mirmo!!!!